What is Herbal Medicine?
Herbal medicine, also called botanical medicine or phytomedicine, refers to using a plant's seeds, berries, roots, leaves, bark, or flowers for medicinal purposes.
Herbs have been implemented in natural medicine for thousands of years. Every culture and every medicinal system, from Ayurveda to Traditional Chinese Medicine, has used herbs for therapeutic purposes. There are thousands of herbs with thousands of different uses, many of which are used in conventional medicine as well as for natural remedies.
Herbs today are used in teas, vitamins and natural supplements. While the benefits of herbal medicine are vast, it is important to understand the basis of herbal medicine. Herbalism has a long tradition of use outside conventional medicine. It is becoming more mainstream as improvements in analysis and quality control, along with advances in clinical research, show the value of herbal medicine in treating and preventing disease.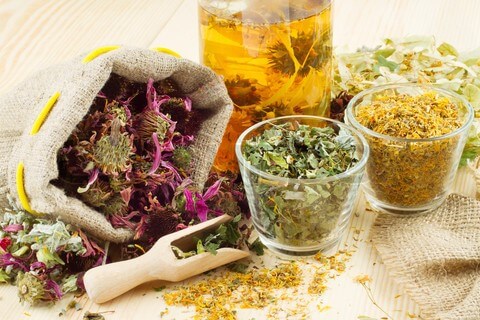 According to an article about herbal medicine by the World Health Organization (2008, August), "Traditional herbal medicines are naturally occurring, plant-derived substances with minimal or no industrial processing that have been used to treat illness within local or regional healing practices. Traditional herbal medicines are getting significant attention in global health debates. In China, traditional herbal medicine played a prominent role in the strategy to contain and treat severe acute respiratory syndrome (SARS)."
---
Benefits of Herbal Medicine
Reasons you should consider botanical medicine:
No harmful side effects.
Pharmaceutical drugs often cause adverse reactions in the patients.
Herbal medicine utilizes the body's natural healing process for treating conditions. The ingredients used are those which are regularly produced in the body.
Reduced risk of side effects: Most herbal medicines are well tolerated by the patient, with fewer unintended consequences than pharmaceutical drugs. Herbs typically have fewer side effects than traditional medicine and may be safer to use over time.
Effective with chronic conditions: Herbal medicines tend to be more effective for long-standing health complaints that don't respond well to traditional medicine.
Widespread availability: Yet another advantage of herbal medicines is their availability. Herbs are available without a prescription. You can grow some simple herbs, such as peppermint and chamomile, at home. In some remote parts of the world, herbs may be the only treatment available to most people.
---
Request Your Consultation Today!
For additional information regarding botanical medicine, please contact Natural Medical Solutions at (770) 674-6311 and make an appointment to consult with Dr. Gail Ravello, PHD, N.D., M.H.
---
Our Location
Natural Medical Solutions Wellness Center
1130 Upper Hembree Rd
Roswell, GA 30076
Phone: (770) 674-6311
Naturopathic medicine clinic serving patients in Roswell, Alpharetta, Atlanta, Crabapple, Johns Creek and the surrounding Fulton County, GA communities.