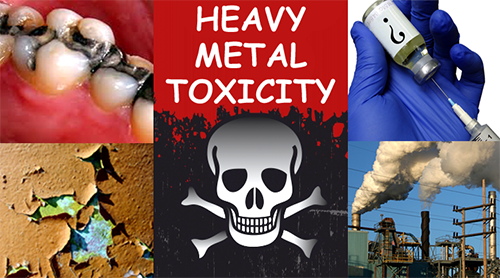 Ways Heavy Metal Affect the Body
We are subjected to a large number of toxic substances on a daily basis, from the pesticides in the food that we consume to the pollutants all around that we inhale. Among the most bad toxins are heavy metals. Heavy metals are arsenic, lead, mercury, and cadmium. These metals can get into your body in an assortment of tricky ways. While we are subjected to heavy metals each day, they gradually develop in the body's tissues. It is one reason why individuals battle to feel healthy. Some indications of chronic heavy metal toxicity include:
Headaches
Brain fog
Chronic fatigue
Pain-filled joints and rashes
Insomnia
Metallic taste in the mouth
Skin problems
Ways Heavy Metal Get In The Body
Tap Water
Regulating your intake of unfiltered tap water can help lessen exposure to heavy metals. In spite of being prohibited, lead pipes are still common in numerous parts of the world. Actually, reports demonstrate that drinking water in a number of communities in the U.S. contains lead buildup. There are reasonable water filters you can purchase that are designed to remove lead.
Silver Dental Fillings
Did you know that silver fillings called "amalgam" contain up to 50% mercury? Over time, these fillings break down, gradually releasing mercury into the body. You can get rid of these fillings; however, use extreme care in doing so because the process is tedious. Holistic Dentists are prepared in strategies to securely expel these fillings.
Pesticide Residue
Pesticides often contain mercury, lead, and arsenic. Pesticides are used on a majority of foods that are not organic. Purchasing organic food is the best way to avoid this.
Optimal Therapy Plan
While it is challenging to totally keep away from heavy metals, you can limit your exposure and search out ways to improve your health naturally. Dr. Gail Ravello treats the entire body as a whole to get to the root cause, not just the symptoms, but what is causing the symptoms. She will go over all modalities of therapies pertaining to an individual's health concerns. Let us assist you in getting your body back to its optimal health. Give us a call at (770) 674-6311 to schedule an appointment.
Book Appointment Today
---
Our Location
Natural Medical Solutions Wellness Center
1130 Upper Hembree Rd
Roswell, GA 30076
Phone: (770) 674-6311
Naturopathic medicine clinic serving patients in Roswell, Alpharetta, Atlanta, Crabapple, Johns Creek and the surrounding Fulton County, GA communities.